Cryptocurrency markets are showing slight bullish momentum today, with Metaverse cryptocurrencies also seeing significant price growth. This article looks at our pick of the top three Metaverse crypto coins with a market cap under $4 million to watch in April 2022 and beyond, sorted by current market cap, from lowest to highest.
#3 Define Finance (FINA) – $3.3 million
Released in October 2021, Define Finance is a highly underrated blockchain-based Metaverse crypto game featuring one of the best designed NFTs on the market. The project also features a fully functional P2E game that allows players to earn FINA tokens as a reward for participating in its economy.
Users need to purchase an NFT from the official Defina Finance marketplace to start playing, which allows them to earn tokens as a reward. NFTs are relatively affordable, with the lowest price currently at 49 FINA, approximately $21.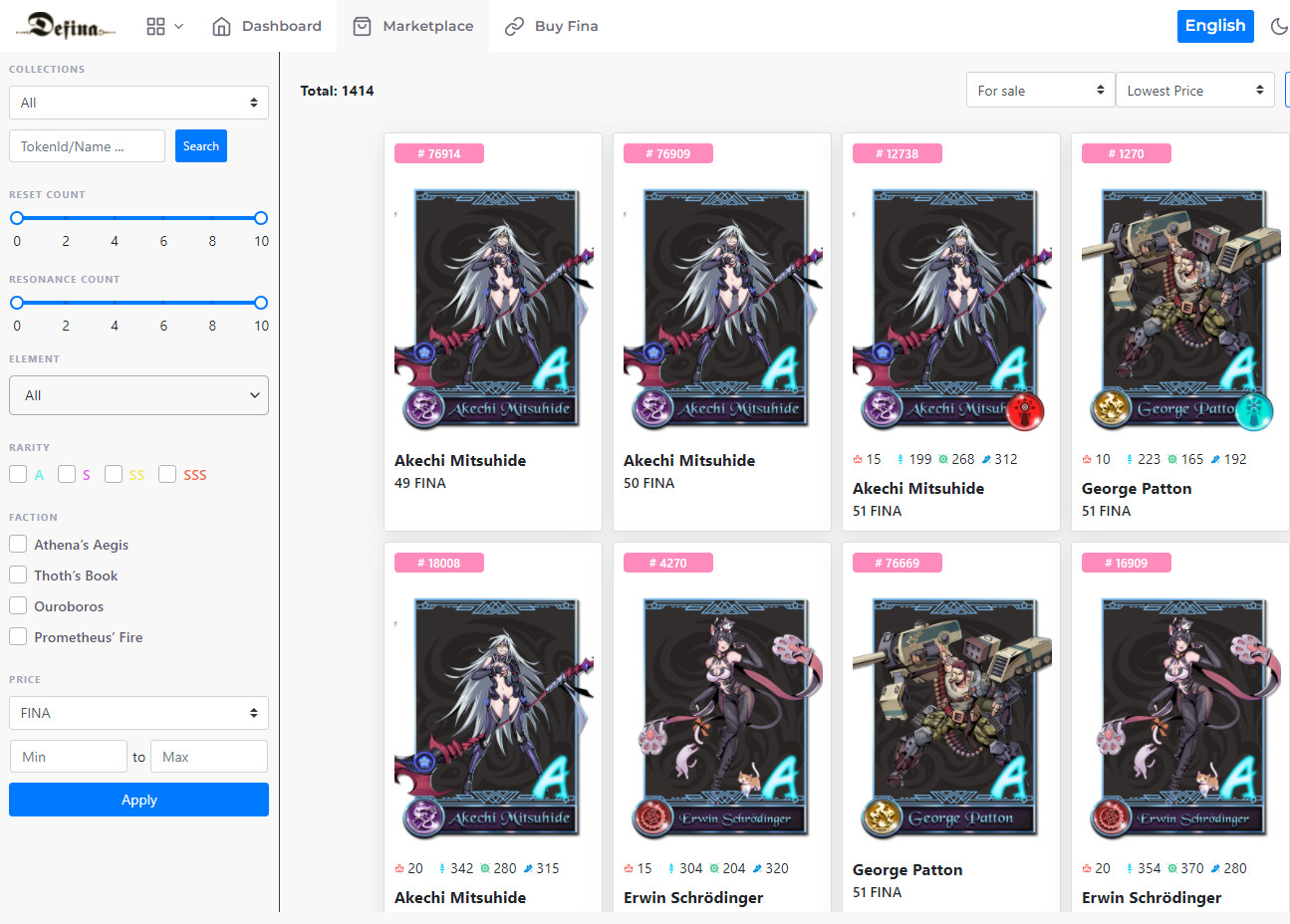 The Defina NFT market is exceptionally active, with over $7.5 million worth of NFTs in total trading volume, which speaks to the project's tremendous long-term potential.
The platform's main utility asset is FINA, a BEP-20 token that lives on the BNB chain. The main utility of FINA is to allow the purchase of NFTs on the Defina platform.
With a market cap of less than $4 million, Defina Finance is a must see in April 2022, and is one of the most undervalued Metaverse Cryptocurrencies on the market.
You can buy FINA on BKEX, PancakeSwap, Bitrue, MEXC and more.
#2 MetaverseX (METAX) – $3.7 million
Released in October 2021, MetaverseX is a decentralized virtual world sandbox building game that is uniquely similar to Minecraft. MetaverseX can also be thought of as the low market cap version of The Sandbox, one of the highest valued Metaverse cryptocurrencies on the market.
MetaverseX allows anyone to own virtual land, create and design virtual buildings and items, and trade and auction digital items as NFTs.
The project is built with Unity, and the game is open for anyone to access through an in-browser 3D experience. We strongly recommend that you check out MetaverseX if you haven't already.
MetaverseX features various game modes, including an adventure mode where users can take on bosses, a daily quest mode that allows users to earn rewards, and a PVP mode to challenge others.
The main utility asset on the platform is METAX, a BEP-20 asset that lives on the BNB chain. Some utilities for METAX include DAO governance, staking for rewards, and interfacing with the MEtaverseX ecosystem.
You can buy METAX on Gate.io, PancakeSwap, Jubi, Hoo, and MEXC.
#1 PolkaWar (PWAR) – $3.9 million
Released in July 2021, polkawar is a DeFi and NFT platform featuring blockchain-based 3D gameplay. It's one of the most underrated projects on this list and also one of the best this week, up more than 58% in the last seven days and more than 46% in the last 24 hours.
PolkaWar allows users to experience a new era of blockchain-based gaming through its gaming portal that is accessible to all. Along with an NFT marketplace, PolkaWar features a unique logistics solution that allows users to convert NFTs into physical items.
PolkaWar's main utility asset is PWAR, a BEP-20 token embedded on the BNB chain. PWAR utilities include staking rewards, market fees, governance, and play-to-win rewards.
As one of the best this week, PolkaWar is a must-watch in April 2022 as the team continues to work on the platform and add more features.
You can buy PWAR on Bibox, Gate.io, PancakeSwap, ZT, MEXC and more.
Disclosure: This is not trading or investment advice. Always do your research before buying Metaverse Crypto Currencies.
---
Also read:
Top 3 Metaverse Crypto Coins With Market Cap Under $12M (April 2022)
Follow us on Twitter @elsoldado_vr to stay up to date with the latest Metaverse news!
Image source: kmls/Shutterstock.com